Overview
This intensive and interactive 3 day course will give participants full exposure to Life Cycle Marketing. Participants will be brought on a journey from conception, to design, execution and review of a marketing & advertising campaign.
PRE-REQUISTIES 
Participants ideally have at least one of the following:
Basic Knowledge of Google AdWords OR have run their own AdWords Campaign before OR Attended our Google & Facebook Advertising 101 Course
Basic Knowledge of Facebook Advertising OR have run their own Facebook Ad Campaign before OR Attended our Google & Facebook Advertising 101 Course
Basic understanding of SEO (We will cover some basics only)
A functioning landing page or website (Sample pages can be made available with at least 2 weeks notice, but it is HIGHLY RECOMMENDED to have your own)
By the end of this course, participants will be able to:
Create an effective Landing Page
Create, manage and analyze a Google AdWords Campaign
Create, manage and analyze a Facebook Ads Campaign
Utilize advanced SEO strategies to boost their page ranking
COURSE OVERVIEW
Landing Pages & Conversion Optimization (Lifecycle Marketing)
 Google AdWords Advertising

Overview of AdWords (including IP exclusions, Accelerated Vs Standard delivery, Dynamic Keyword Inclusion)
Comprehensive Keyword Research (Know Thy Enemy!)
Bid Stimulator
Ad Extensions
Insights for Ad Testing (In-market audiences, scheduling etc)
Quality Score & it's Implications for you
Dynamic Advertising (Remarketing, Dynamic Search Ads, Customer Match, Remarketing Lists)
Auditing your account
Case Studies

 Facebook Advertising & Engagement (BONUS: Instagram Marketing)

Branding on Social Media
Social Media Landscape, trends, etiquettes, and policies
Facebook Content Curation, Creation & Management
Facebook Apps & Advertising
Leveraging Instagram Marketing for your business
Facebook Insights, Pixels, Custom Audiences
Case Studies

SEO

Introduction

How Search Engines Work (PageRank History & Understanding Trust Flow, Citation Flow & Domain Authority)
Google Algorithm Changes – Penguin, Panda & Hummingbird
Google Knowledge Graph – Semantic and entity search
(Latest tools, techniques and technologies for SEO)

SEO Planning & Management

Google Webmaster Tools
Google Keyword Planner Alternatives
Short-tail vs Long-tail keywords
Advanced Keyword Research & Difficulty to Rank

Advanced On-Page Optimization

What is On-Page SEO and how it affects SEO ranking
Building Google preferred web structure
SEO Technical Audit
Duplicated content, site speed, orphan pages , missing pages
Migration strategies
Handling 301 redirects
International and multi-lingual best practices
Google penalties and how to overcome them

Advanced Off-Page Optimization

Editorial policies for link building in the age of Penguin
Content marketing strategies, content creation and amplification
Risk and opportunity: forums, blogs, mainstream media, online PR and trade press
Best practice for video optimization and asset tagging for search
Understanding the Blackhat world of SEO
Advanced Link Building Strategies (mutual link exchange, competitive back-linking)
Top 8 Advanced Techniques to Impress Your Boss

YouTube Optimization
Mobile SEO

Mobile websites versus responsive design
Controlling Googlebot mobile
Accelerated Mobile Pages

Local Search
BLENDED LEARNING
24/7 Complimentary Online Access to all courses on our Online Academy worth $399, Over 1000 minutes of Step By Step Training Videos, Mind Maps and Cheat Sheet.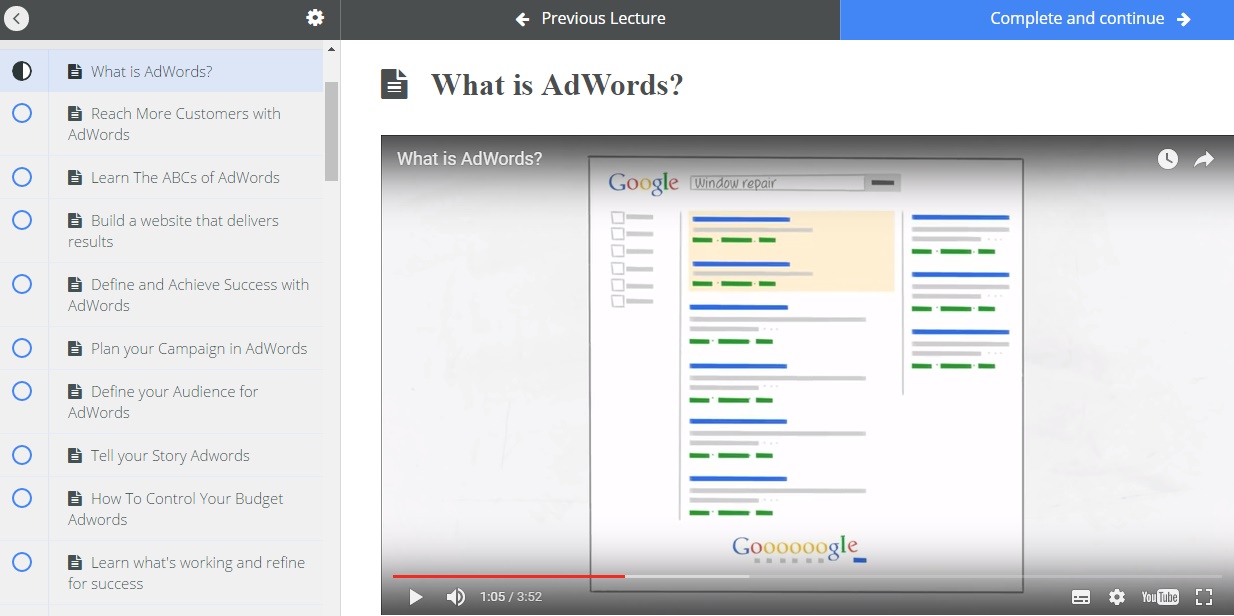 OVER $1,000 WORTH OF EXCLUSIVE BONUSES
OFFICIAL Google Adwords Certification
FREE Google Account Setup Voucher by Google's Adwords Specialist worth $500
FREE $75 Google Adword coupon (T&Cs apply)
Exclusive discounts for digital marketing services worth up to $500
4 Resource guides worth $299
Exclusive discounts for Conversion Hub Academy worth $299 (access to over 20 online courses)
Disclaimer : Coupon use subjected to Google Coupon's Terms & Condition. All printing will be done in black and white.
Original Price: $1999
Group Discounts Available
PIC/WDA/SDF/SkillsFuture Eligible
WHAT OUR ATTENDEES SAY!
"I am a IT professional specializing in WordPress development. A lot of customers are asking me for internet marketing services. I am still a beginner at internet marketing so I'm speaking from that perspective but the lessons are easy to follow and understand. The content is expertly organized and contains fantastic, easy to implement actions to increase a website's online presence. I can't wait to up my business my offering internet marketing services."
Choon Hong, Founder of Mimzo Solutions
"I'm fairly new to internet marketing and so I deeply appreciate the detail explanations given during the course. I also like the PDF downloads, as whenever I started to feel a little overwhelmed with all the new information, I can easily print out the materials to go back through it at a later date. It is a great course at an affordable price. Thank you! "
Henry Seah, Founder sgCarMart
"I love the practical hands on how to do marketing. I work with agencies a lot during the course of my work and understanding these internet marketing basics allow me to better communicate with them."
Linda Teo, Head of Marketing